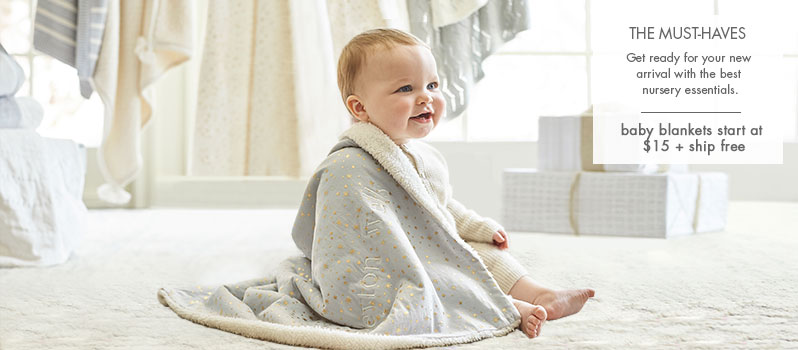 Blankets and Essentials
When you have a child, there are many small things you need besides cribs and strollers. Pottery Barn Kids offers a wide selection of blankets, sleep sacks and other essentials to pamper your baby and keep them warm and dry. Stroller blankets are sized to fit into strollers without hanging out and tangling in the wheels as you and baby walk around. Each blanket is made from soft material, either cotton, polyester or cashmere. Many of the stroller blankets can be customized with names or initials as well. Hooded bath wraps are a terrific way to keep your little one warm after getting them out of the bath. The hooded towels and wraps come in everything from simple styles to cute animal styles. Some of the wraps have unicorn horns, elephant ears and bunny ears. There are select pieces that can have a name added to them to personalize them also.
Make sure to check out our selection of toys for your little ones to play with before or after bath time. Review our great selection of tabletop and feeding items to make dinner time fun and whimsical before heading of to the bath. If you're on the go and have a mess, check out our diaper bags and totes to keep on-the-go cleaning supplies in.