White with Pink Trim Teepee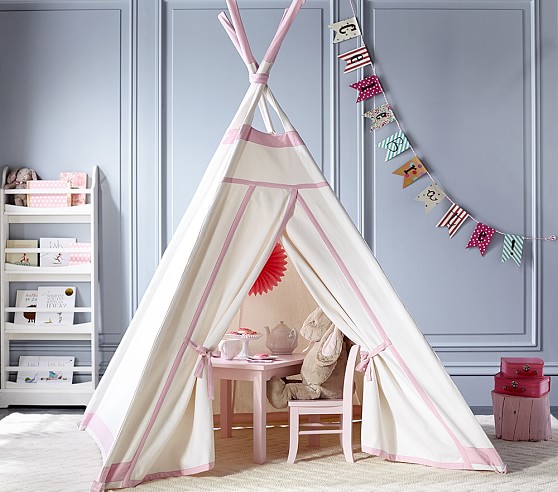 Overview
Pretty pink trim adds a fun touch to our sturdy indoor teepee. It's a perfect spot for hanging out with friends, hosting tea parties or having a little quiet time.
DETAILS THAT MATTER
Teepee is crafted of pure recycled cotton canvas with an aluminum frame.
The recycled cotton canvas will offer slight, natural variations in tone.
Teepee does include tiebacks for the open flaps.
KEY PRODUCT POINTS
Regular Teepee: 60" square, 78" high
Mini Teepee: 45" square, 54" high
Height includes entire teepee, including top sticks.
For indoor use only.
Dimensions & Care
DIMENSIONS
Regular Teepee
Overall: 60" square, 78" high
Window: 11.75" square
Cover (when flat): 60" square, 98" long
Weight: 8.25 pounds
Mini Teepee
Overall: 45" square, 54" high
Window (2): 9" square
Cover (when flat): 45" square, 70" long
Interior: 44" square at base, 46" high
Weight: 5.5 pounds
CARE
Dust often using a soft, dry cloth.
Protect from direct sunlight and extreme temperatures.
Blot spills immediately with a clean, damp cloth.
Delivery Tips and Buying Guides
Steps for Successful Furniture Delivery
Confirm all dimensions of the product, including diagonal depth.
Measure your space and mark out the dimensions on the floor.
Measure the interior space of doorways, passages and stairwells to make sure the furniture will get through.
Measure carefully as we cannot be responsible for items that do not fit in your home.
Get tips on how to measure for furniture.

Buying Guides and Resources
Our Safety and Quality Commitment
Our Commitment

At Pottery Barn Kids, we have a firm commitment to safety and quality. Our furniture is rigorously tested to meet or exceed the highest industry safety standards. We take great pride in our timeless designs, premium materials and expert craftsmanship.
Designed In-house
Nearly all of our products are imagined and designed in our San Francisco studios. Our artists hand-create prototypes for everything from furniture to bedding to lighting. From there, we work with talented craftsmen and fabric industry leaders to build long-lasting products designed to last your family for years to come.
Free Interior Design Services
Need design help? We offer free, no-strings-attached Interior Design Services. Get advice and inspiration from our specialists in-store, over the phone or by email. Designers will even make in-home visits, where they can take measurements, discuss color options and give tips on any room.
See It In Stores
See it in person! Visit your local store and you could view, test, purchase and pickup! To confirm availability, find a store near you.

Visit your local store and speak to one of our trained design specialists to assist you with all your design needs & in-store resources including:
Free upholstery fabric swatches
Furniture wood swatches
Mattresses on display for testing comfort
Shipping & Return Info
This is an oversized item. In-stock items will usually ship within 7-10 business days for the cities listed below.
San Francisco, Los Angeles, Dallas, Chicago, Detroit, Columbus, New York City, Baltimore, Boston, Cromwell, Atlanta, Raleigh, Charlotte, Tampa, Fort Meyers, Orlando, Miami, Fort Lauderdale
For other areas, your items will be delivered within 2-3 weeks.
View Our Shipping Information
HASSLE-FREE RETURNS
At Pottery Barn Kids, we take great pride in the quality and craftsmanship of our products. Attention to design, materials, safety and construction is our priority. We carefully inspect your order prior to shipment; upon receipt, please inspect your purchase and notify us of any damage. We will arrange for a prompt replacement. If, within 7 days for Quick Ship upholstery and 30 days for all other products, you are dissatisfied for any reason, you may return your purchase for a refund of the merchandise value.

If your return for Merchandise Credit Cards is greater than $10,000, we will issue $10,000 in Merchandise Credit Cards to you that day, and then mail additional Merchandise Credit Card(s) for the amount in excess of $10,000 to you.

For returns of items purchased from your Pottery Barn Kids registry, we will gladly provide a refund or exchange for the merchandise within 90 days of your event or within 90 days of purchase, whichever date is later.

Exceptions
Delivery fees are non-refundable and prior purchases are not eligible for a price adjustment. The following items are non-eligible for returns or exchanges:
Personalized/Monogrammed items
Mattresses
Gift cards
Special-order items (including made-to-order upholstery and custom order rugs)
Final Sale items (identified by a price ending in $.97 or $.99)
Items damaged through normal wear and tear.

Questions? See our full Returns Policy.
International Returns: Online returns are available only for items that were shipped to the United States. If you would like to return items that were shipped outside the US, please see International Returns and Exceptions.
White with Pink Trim Teepee
Item
Price
Delivery Surcharge
White with Pink Trim Mini Teepee

$

179

$

0

White with Pink Trim Teepee

$

259

$

0
Pricing may vary at time of purchase.
Product subject to availability. If you have any questions regarding this item(s), please call
1.800.993.4923
.