Charleston Convertible Rocker & Ottoman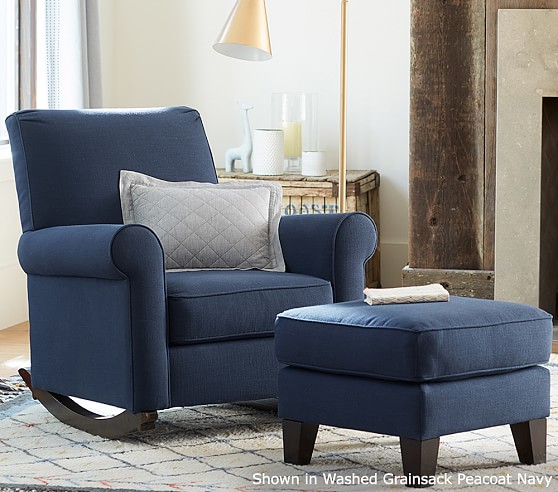 Overview
HOW IT'S CONSTRUCTED
Expertly crafted with a solid hardwood frame and extra-thick padding on the arms and back.
Sturdy hardwood runners provide smooth, quiet motion.
DETAILS THAT MATTER
Knobs on the front and back of the runners keep the chair stable as you rock or stand up.
Add value with extra feet (sold separately) that allow you to convert this versatile piece to a traditional armchair when rocking is no longer necessary.
KEY PRODUCT POINTS
Rigorously tested to meet or exceed the highest industry safety standards.
Solid wood frame uses mortise and tenon joinery and is corner blocked for structural integrity.
Dimensions & Care
DIMENSIONS
Rocker
Overall: 34.5" wide x 36" deep x 36" high
Seat Cushion: 21" wide x 22" deep x 8" high
Seat Height: 19"
Back Height: 23"
Arms: 7" wide
Rocker Legs: 2" wide x 35.5" deep x 5" high
Weight: 64 pounds
Ottoman
Overall: 23.25" wide x 22.25" deep x 18" high
Weight: 21 pounds
CARE
Colors Available
Twill White

Twill Cream

Twill Parchment

Twill Gray

Metal Gray Twill

Twill Cadet Navy

Organic Twill White

Organic Twill Gray

Organic Twill Cadet Navy

Performance Everyday Velvet Ivory

Performance Everyday Velvet Silver Gray

Performance Everyday Velvet Platinum

Linen Blend White

Linen Blend Gray

Linen Blend Pale Pink

Linen Blend Bright Pink

Linen Blend Aqua

Linen Blend Peacoat Navy

Linen Blend Charcoal

Recycled Cotton Dove Gray

Performance Canvas Natural

Washed Grainsack Flax

Washed Grainsack Gray

Washed Grainsack Navy

Vintage Stripe Indigo

Linen Oatmeal

Washed Linen-Cotton White

Washed Linen-Cotton Ivory

Washed Linen Cotton French Gray

Washed Linen-Cotton Metal Gray

Performance Tweed White

Performance Tweed Gray

Textured Linen Sand

Leila Geo Gray

Leila Geo Pink

Natural Flax Belgian Linen

Belgian Linen Aged Flax

Belgian Linen Gray

Belgian Linen Pale Pink

Premium Performance Basketweave Bone

Premium Performance Basketweave Putty

Premium Performance Basketweave Silver Gray

Premium Performance Basketweave Navy

Premium Performance Slubbyweave Bone

Premium Performance Slubbyweave Oat

Premium Performance Slubbyweave Silver Gray

Brushed Crossweave Charcoal

Brushed Crossweave Light Gray

Brushed Crossweave Natural

Performance Slub Cotton Pale Gray

Performance Slub Cotton Metal Gray

Performance Slub Cotton White

Belgian Linen Light Gray

Premium Performance Basketweave Storm Gray
Shipping & Return Info
This is an upholstered furniture item. In-stock items will usually ship within 7-10 business days for the cities listed below.
San Francisco, Los Angeles, Dallas, Chicago, Detroit, Columbus, New York City, Baltimore, Boston, Cromwell, Atlanta, Raleigh, Charlotte, Tampa, Fort Meyers, Orlando, Miami, Fort Lauderdale
For other areas, your items will be delivered within 2-3 weeks.
View Our Shipping Information

Return Policy
At Pottery Barn Kids, we take great pride in the quality and craftsmanship of our products. Attention to design, materials, safety and construction is our priority. We carefully inspect your order prior to shipment; upon receipt, please inspect your purchase and notify us of any damage. We will arrange for a prompt replacement. If, within 7 days for Quick Ship upholstery and 30 days for all other products, you are dissatisfied for any reason, you may return your purchase for a refund of the merchandise value.

If your return for Merchandise Credit Cards is greater than $10,000, we will issue $10,000 in Merchandise Credit Cards to you that day, and then mail additional Merchandise Credit Card(s) for the amount in excess of $10,000 to you.

We cannot accept returns on monogrammed, personalized, special-order items, or on items damaged through normal wear and tear. We also cannot accept returns of final-sale items, which are identified by a price that ends in $0.99.

For returns of items purchased from your Pottery Barn Kids registry, we will gladly provide a refund or exchange for the merchandise within 90 days of your event or within 90 days of purchase, whichever date is later.

For assistance, please contact Customer Service at 800.993.4923

International Returns: Online returns are available only for items that were shipped to the United States. If you would like to return items that were shipped outside the US, please see International Returns and Exceptions.
Product subject to availability. If you have any questions regarding this item(s), please call
1.800.993.4923
.