Hanukkah Dreidel Set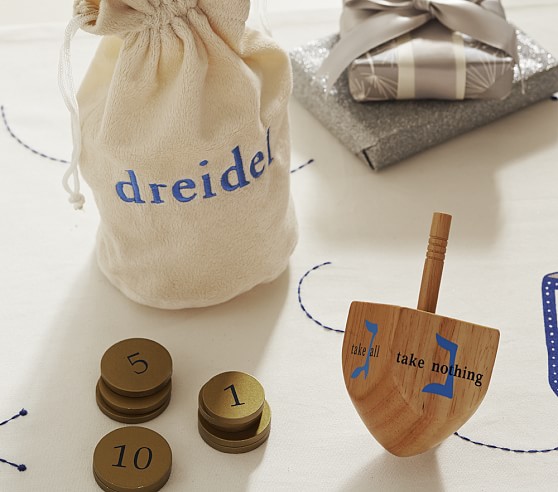 Overview
Children of all ages can share the excitement of this classic Hanukkah game as they take turns spinning their dreidels and collecting winnings – or contributing their own pieces to the center pot. This solid wood dreidel comes with 20 coins so kids can enjoy playing over and over again.
2" diameter, 4" high
Crafted of solid wood.
Includes 20 gold coins.
Ages 3 and up.
WARNING: CHOKING HAZARD – Click for details.
Dimensions & Care
Care
Dust with a soft, dry cloth.
Shipping & Return Info
Please allow 5-7 business days for delivery. Delivery estimate includes monogrammed and gift-wrapped items.
International Customers: Items on this page are not eligible for Free Shipping. Please view our general guidelines for more information.
Hanukkah Dreidel Set
| Item | Price |
| --- | --- |
| Hanukkah Dreidel | No Longer Available |
Pricing may vary at time of purchase.
Product subject to availability. If you have any questions regarding this item(s), please call
1.800.993.4923
.