Catalina Toddler Bed Conversion Kit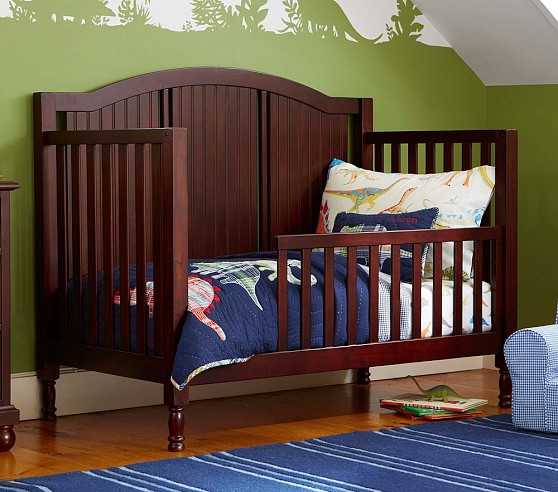 Overview
Our conversion kit makes it easy to transform our Catalina Crib into a toddler bed for lasting use, style and comfort as your child grows.
HOW IT IS CONSTRUCTED
Built from poplar and MDF, an engineered wood that lends exceptional strength and ensures structural integrity over time.
Crafted with mortise-and-tenon joinery for structural integrity.
Mattress platform offers three height options to accommodate your growing baby.
Water-based finish provides a durable surface with stain resistance and no odor.
Our finishes were developed exclusively for Pottery Barn Kids. Craftsmen carefully paint our soft White finish in layers for a smooth, opaque surface. Sun Valley pieces feature a dry-brush technique that mottles the color while it's still wet to reveal the wood's textural grain. All finishes are sealed with a final coat of lacquer for extra durability.
DETAILS THAT MATTER
Elegant details include crown molding, beveled panels, grooved posts and fluted slat detailing.
Use with our Classic Crib Mattress (sold separately).
Designed to easily adapt from a crib to a toddler bed and/or a full-sized bed.
To convert your crib or converted toddler bed to a full-sized headboard with metal bed frame, purchase the Box Spring Frame with Headboard Attachment.
To convert your crib or converted toddler bed to a full-sized bed with wood headboard and bed frame, purchase the Box Spring Frame with Headboard/Footboard Attachment.
The full-sized headboard can be used with our Box Spring Frame (sold separately) or with most standard bed frames.
All finishes in the same color family are designed to coordinate with one another. For example, Rustic Sun Valley Honey, Sun Valley Honey and Honey all look great together in one room.
Wood swatches, below, are available for $20 each. We will provide a merchandise refund for swatches if they're returned within 30 days.
SAFETY INFORMATION
Use only a fitted bottom sheet that is specifically made for crib use (Pottery Barn Kids fitted crib sheets have elastic around the tip and bottom, rather than around the entire edge, for added safety), along with a mattress pad and/or a waterproof pad.
If you use a blanket, ensure it is tucked around the sides of the crib mattress and covers your baby only up to the chest.
Do not place decorative pillows, quilts, comforters, sheepskins or stuffed animals in the crib while your baby is sleeping, as they may prevent proper air circulation around your baby's face.
When your child is able to pull up to a standing position, you should remove the crib bumper.
KEY PRODUCT POINTS
51.25" wide x 16.5" high x 1" thick
Rigorously tested to meet or exceed all required and voluntary safety standards enacted by the US Product Safety Commission, the American Society of Testing Manufacturers and the Canadian Cribs and Cradles Regulations. See our crib safety tips
Dimensions & Care
DIMENSIONS
Crib: 31.5" wide x 56" wide x 31.5" deep x 45" high
Conversion Kit: 51.25" wide x 16.5" high x 1" thick
Weight: 84 pounds
CARE
Dust often using a clean, soft, dry cloth.
Blot spills immediately, and wipe with a clean, damp cloth.
We do not recommend the use of chemical cleansers, abrasives or furniture polish.
Parents should ensure a safe environment for the child by checking regularly to see that every component is properly fastened and securely in place.
Do not overtighten fasteners, as this may cause distortion or breakage.
Carefully package all original hardware to protect from loss or damage.
Store assembly instructions in the envelope attached to the mattress base for future reference.
Delivery Tips and Buying Guides
Steps for Successful Furniture Delivery
Confirm all dimensions of the product, including diagonal depth.
Measure your space and mark out the dimensions on the floor.
Measure the interior space of doorways, passages and stairwells to make sure the furniture will get through.
Measure carefully as we cannot be responsible for items that do not fit in your home.
Get tips on how to measure for furniture.

Buying Guides and Resources
Our Safety and Quality Commitment
Our Commitment

At Pottery Barn Kids, we have a firm commitment to safety and quality. Our furniture is rigorously tested to meet or exceed the highest industry safety standards. We take great pride in our timeless designs, premium materials and expert craftsmanship.
Designed In-house
Nearly all of our products are imagined and designed in our San Francisco studios. Our artists hand-create prototypes for everything from furniture to bedding to lighting. From there, we work with talented craftsmen and fabric industry leaders to build long-lasting products designed to last your family for years to come.
Free Interior Design Services
Need design help? We offer free, no-strings-attached Interior Design Services. Get advice and inspiration from our specialists in-store, over the phone or by email. Designers will even make in-home visits, where they can take measurements, discuss color options and give tips on any room.
See It In Stores
See it in person! Visit your local store and you could view, test, purchase and pickup! To confirm availability, find a store near you.

Visit your local store and speak to one of our trained design specialists to assist you with all your design needs & in-store resources including:
Free upholstery fabric swatches
Furniture wood swatches
Mattresses on display for testing comfort
Colors Available
Vintage Simply White

Sun Valley Espresso

Charcoal
Shipping & Return Info
SHIPPING
Quick Ship: 1-3 Weeks
Items marked as QUICK SHIP (QS) will usually be delivered within 1 to 3 weeks. There is no additional charge for Quick Ship delivery. This service is subject to product availability at time of shipping.
Special Order: 8-10 Weeks, 10+ weeks
Made to Order items are usually delivered within 8-10 weeks to addresses within the contiguous 48 states. There are a few items that will be deliever within 10+ weeks. Once it reaches our distribution center, a local delivery service will contact you to schedule a delivery appointment.
Non-upholstered Furniture
All non-upholstered furniture items will arrive within 7 to 10 business days in most metropolitan areas.** For other areas, your furniture will be delivered within 1 to 3 weeks, depending on availability.
**San Francisco, Los Angeles, Las Vegas, Denver, Phoenix, New York City, Baltimore, Boston, Dallas, Atlanta, Chicago, Detroit, Columbus, Cromwell, CT, Raleigh/Charlotte, NC, & Tampa/Ft. Myers/Orlando and Miami/Ft. Lauderdale, FL.
Unlimited Flat Rate Furniture & Freight Delivery
With Unlimited Flat Rate Furniture & Freight Delivery, an unlimited number of eligible furniture and select non-furniture items in your order can be delivered for a single flat rate. The exact shipping charges are based on our shipping location and will be applied in the Checkout Payment & Review page.
Premium In-Home White Glove Delivery
With Premium In-Home White Glove Delivery, items are brought into your home, most are unpacked and assembled*, and the packaging is removed. Premium In-Home White Glove delivery is only available in the contiguous 48 states.
Delivery is by appointment Tuesday – Saturday in most major metropolitan areas, with Monday delivery available in some areas. Service to outlying areas may be restricted based on geographic location. Our delivery service will contact you to arrange a delivery date and confirm the appointment timeframe.
Surcharges
Select oversized items have an additional delivery and processing surcharge; this charge is listed below the item price.
View the complete Shipping and Delivery Information page.

HASSLE-FREE RETURNS
At Pottery Barn Kids, we take great pride in the quality and craftsmanship of our products. Attention to design, materials, safety and construction is our priority. We carefully inspect your order prior to shipment; upon receipt, please inspect your purchase and notify us of any damage. We will arrange for a prompt replacement. If, within 7 days for Quick Ship upholstery and 30 days for all other products, you are dissatisfied for any reason, you may return your purchase for a refund of the merchandise value.
If your return for Merchandise Credit Cards is greater than $10,000, we will issue $10,000 in Merchandise Credit Cards to you that day, and then mail additional Merchandise Credit Card(s) for the amount in excess of $10,000 to you.

For returns of items purchased from your Pottery Barn Kids registry, we will gladly provide a refund or exchange for the merchandise within 90 days of your event or within 90 days of purchase, whichever date is later.

Exceptions
Delivery fees are non-refundable and prior purchases are not eligible for a price adjustment. The following items are non-eligible for returns or exchanges:
Personalized/Monogrammed items
Mattresses
Gift cards
Special-order items (including made-to-order upholstery and custom order rugs)
Final Sale items (identified by a price ending in $.97 or $.99)
Items damaged through normal wear and tear.
Questions? See our full Returns Policy.
Catalina Toddler Bed Conversion Kit
Item
Price
Delivery Surcharge
Catalina Crib Guardrail Conversion Kit, Vintage Simply White

$

139

$

0

Catalina Crib Guardrail Conversion Kit, Vintage Simply White

$

139

$

0

Catalina Crib Guardrail Conversion Kit, Sun Valley Espresso

$

139

Special

$

129

$

0

Catalina Crib Guardrail Conversion Kit, Sun Valley Espresso

$

129

$

0

Catalina Toddler Bed Conversion Kit, Charcoal

$

139

$

0

Catalina Crib Guardrail Conversion Kit, Charcoal, In-home

$

139

$

0
Pricing may vary at time of purchase.
Product subject to availability. If you have any questions regarding this item(s), please call
1.800.993.4923
.