Castle Loft Bed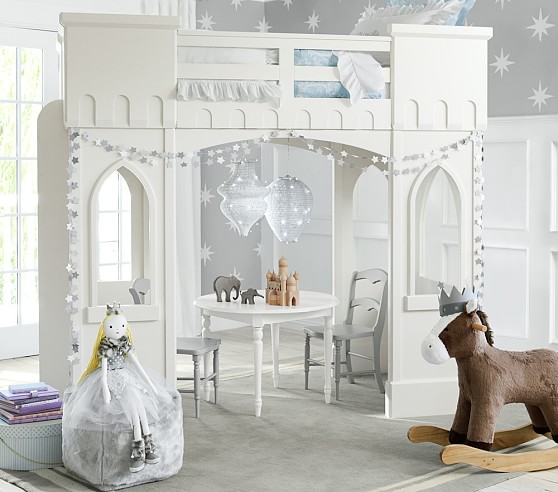 Overview
Inspired by the turrets and towers of a medieval fortress, this grand wooden loft offers a safe, snug and very special place for your child to sleep. Underneath, there's plenty of space for make-believe play.
Get tips on how to measure for furniture.
82" wide x 43.5" deep x 75.5" high
Minimum recommended ceiling height: 10'
Expertly crafted with kiln-dried solid hardwood and finished in Simply White.
Slat-roll foundation is designed for use without a box spring.
The Consumer Product Safety Commission recommends that top bunks not be used for children under 6 years of age.
Dimensions & Care
Features
Get tips on how to measure for furniture.
Rigorously tested to meet or exceed the highest industry safety standards.
Masterfully crafted with a kiln-dried solid wood frame and frame-and-panel construction for structural integrity.
Built from solid wood, hardwood veneers and MDF, an engineered wood that lends exceptional strength and ensures that the bed will endure over time.
All wood is kiln dried for added strength and lasting beauty.
The use of veneers results in high-quality furniture with flawless surfaces and consistent color tones.
Details
Overall: 82" wide x 43.5" deep x 75.5" high

Space Under Bed: 79.75" wide x 43.5" deep x 55.5" high
Entrance Opening Under Bed: 40.25" wide x 54" high
Maximum Weight Capacity: 400 pounds
Weight: 307 pounds
Care
Dust often using a soft, dry cloth.
Protect from direct sunlight and extreme temperatures.
Blot spills immediately with a clean, damp cloth.
We do not recommend the use of chemical cleansers, abrasives, furniture polish or wax.
Shipping & Return Info
This is an oversized item. In-stock items will usually ship within 7-10 business days for the cities listed below.
San Francisco, Los Angeles, Dallas, Chicago, Detroit, Columbus, New York City, Baltimore, Boston, Cromwell, Atlanta, Raleigh, Charlotte, Tampa, Fort Meyers, Orlando, Miami, Fort Lauderdale
For other areas, your items will be delivered within 2-3 weeks.
View Our Shipping Information
HASSLE-FREE RETURNS
At Pottery Barn Kids, we take great pride in the quality and craftsmanship of our products. Attention to design, materials, safety and construction is our priority. We carefully inspect your order prior to shipment; upon receipt, please inspect your purchase and notify us of any damage. We will arrange for a prompt replacement. If, within 7 days for Quick Ship upholstery and 30 days for all other products, you are dissatisfied for any reason, you may return your purchase for a refund of the merchandise value.

If your return for Merchandise Credit Cards is greater than $10,000, we will issue $10,000 in Merchandise Credit Cards to you that day, and then mail additional Merchandise Credit Card(s) for the amount in excess of $10,000 to you.

For returns of items purchased from your Pottery Barn Kids registry, we will gladly provide a refund or exchange for the merchandise within 90 days of your event or within 90 days of purchase, whichever date is later.

Exceptions
Delivery fees are non-refundable and prior purchases are not eligible for a price adjustment. The following items are non-eligible for returns or exchanges:
Personalized/Monogrammed items
Mattresses
Gift cards
Special-order items (including made-to-order upholstery and custom order rugs)
Final Sale items (identified by a price ending in $.97 or $.99)
Items damaged through normal wear and tear.

Questions? See our full Returns Policy.
International Returns: Online returns are available only for items that were shipped to the United States. If you would like to return items that were shipped outside the US, please see International Returns and Exceptions.
Castle Loft Bed
| Item | Price |
| --- | --- |
| Castle Loft Bed | No Longer Available |
Pricing may vary at time of purchase.
Product subject to availability. If you have any questions regarding this item(s), please call
1.800.993.4923
.