Camp Small Dresser & Changing Table Topper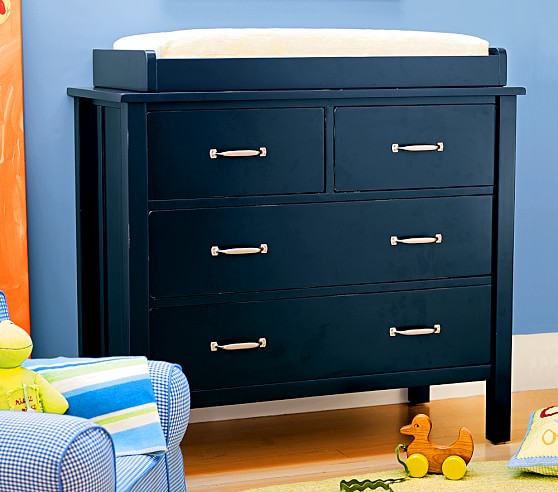 Overview
Note: Navy (shown) is no longer available.

All the things that make our Camp Collection so popular – its appealing American design, planked construction and sturdy build – make it a natural choice for the nursery. Designed to accommodate a growing wardrobe, our dresser has spacious drawers and solid wood framing. Tongue and groove construction ensures long-lasting structural integrity. The sturdy wood topper creates a safe place for diaper changes and can be easily removed as your baby grows. Available colors listed below.

All finishes in a color story coordinate with each other. For example, Rustic Sun Valley Honey, Sun Valley Honey, and Honey are all designed to coordinate and sit in the same room with each other.

Small Dresser is 38 x 19 x 33" h.
Topper is 34 x 18 x 3.5" h.
Dimensions & Care
CAMP SMALL DRESSER AND CHANGING TABLE TOPPER

DIMENSIONS:
Dresser Overall: 38" x 19" x 33" h
Interior Drawer Dimensions:
Small (2): 14.5" x 14.5" x 5.5" h
Large (2): 31" x 14.5" x 5.5" h
Floor clearance from bottom of piece: 6" h
Assembled Weight: 90 lbs

Topper Overall: 34" x 18" x 3.5" h
Interior Dimensions: 32.5" x 16" x 3" h

COMPOSITION:
Dresser Overall: Solid Wood Frame, MDF*, featuring Tongue and Groove, and Dowel construction techniques. Drawers feature English Dovetailing and Waxed Wood Glides. Top Panel is 5-Ply construction. All sides finished.
Frame, Shelves, Legs: Poplar or Spruce
Drawers: Plywood, MDF*
Drawer Glides: Poplar
Top Panel: MDF* with Maple or Spruce Veneer
Finish: Oil-based paint or stain, hand applied using 5-step process
Hardware: Satin Nickel (Weathered** Navy)/Antique Bronze
(Blue/Red/Honey)
Topper:
Sides: Poplar or Pine
Bottom Panel: MDF*
Underside Lining: Felt

*MDF (Medium Density Fiberboard): A man-made fiberboard consisting of wood fibers and resin binders. Suitable for painted furnishings and commonly used as a base for veneers, MDF features uniform consistency with no knots. While its density is about the same as a medium-weight hardwood, it is more structurally stable and will not warp or crack. MDF adheres well to finishes.

**Weathered: A dark undercoating is applied to the piece prior to painting. Then, the finish is lightly sanded towards the edges to give an "eased edge" where the undercoating is allowed to show through. A more refined look then antiqued.

Sun Valley: Developed exclusively for Pottery Barn Kids by a master furniture craftsman, our Sun Valley Finish adds the special warmth and patina of a treasured heirloom. This finish is achieved through a multiple step finishing process that brings out the wood's natural beauty. A final coat of lacquer seals the finish and adds extra durability.

CARE:
Dust often using a clean, soft, dry lint-free cloth.
Blot spills immediately, and wipe with a clean, damp, cloth.
We do not recommend the use of chemical cleansers, abrasives, or furniture polish on our lacquered finish.
Shipping & Return Info
This is an oversized item. In-stock items will usually ship within 7-10 business days for the cities listed below.
San Francisco, Los Angeles, Dallas, Chicago, Detroit, Columbus, New York City, Baltimore, Boston, Cromwell, Atlanta, Raleigh, Charlotte, Tampa, Fort Meyers, Orlando, Miami, Fort Lauderdale
For other areas, your items will be delivered within 2-3 weeks.
View Our Shipping Information
HASSLE-FREE RETURNS
At Pottery Barn Kids, we take great pride in the quality and craftsmanship of our products. Attention to design, materials, safety and construction is our priority. We carefully inspect your order prior to shipment; upon receipt, please inspect your purchase and notify us of any damage. We will arrange for a prompt replacement. If, within 7 days for Quick Ship upholstery and 30 days for all other products, you are dissatisfied for any reason, you may return your purchase for a refund of the merchandise value.

If your return for Merchandise Credit Cards is greater than $10,000, we will issue $10,000 in Merchandise Credit Cards to you that day, and then mail additional Merchandise Credit Card(s) for the amount in excess of $10,000 to you.

For returns of items purchased from your Pottery Barn Kids registry, we will gladly provide a refund or exchange for the merchandise within 90 days of your event or within 90 days of purchase, whichever date is later.

Exceptions
Delivery fees are non-refundable and prior purchases are not eligible for a price adjustment. The following items are non-eligible for returns or exchanges:
Personalized/Monogrammed items
Mattresses
Gift cards
Special-order items (including made-to-order upholstery and custom order rugs)
Final Sale items (identified by a price ending in $.97 or $.99)
Items damaged through normal wear and tear.

Questions? See our full Returns Policy.
International Returns: Online returns are available only for items that were shipped to the United States. If you would like to return items that were shipped outside the US, please see International Returns and Exceptions.
Camp Small Dresser & Changing Table Topper
| Item | Price |
| --- | --- |
| Camp Dresser, Rustic Sun Valley Honey | No Longer Available |
Pricing may vary at time of purchase.
Product subject to availability. If you have any questions regarding this item(s), please call
1.800.993.4923
.