Baby Hand Print Ornaments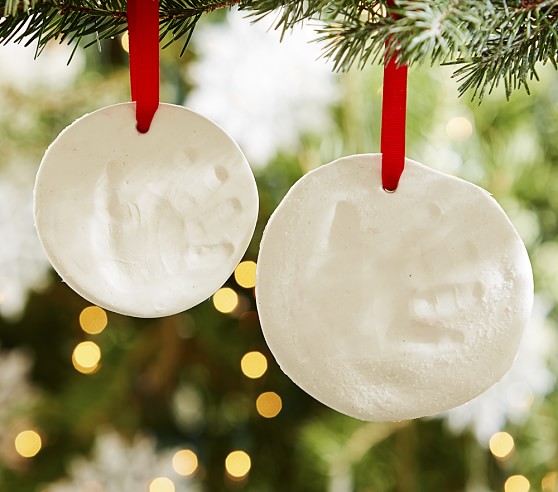 Overview
Create a precious heirloom ornament of your baby's handprint with our easy-to-use kit. It comes with air-dry clay to make a simple impression of baby's hand and a grosgrain ribbon to hang it from the tree. The Glitter Baby Ornament adds a hint of sparkle.
Cookie cutters allow you to make a 4.5"- or 5.5" diameter size ornament.
Impression material requires no addition of water, no mixing and no baking.
It is soft right out of the packaging, and simply air dries once your impression is perfect.
If you make a mistake, just repeat the impression until you get it right!
Comes with impression material, wood dowel rolling pin, two cookie cutters, red grosgrain ribbon and plastic straw hole punch.
Glitter Baby Print ornament includes all of the above plus snowy glitter and glue.
Dimensions & Care
Dimensions
Cookie Cutter 1: 4.5" diameter, 0.25" thick
Cookie Cutter 2: 5.5" diameter, 0.5" thick
Care
Wipe with a soft, dry cloth.
Baby Hand Print Ornaments
Item
Price
Delivery Surcharge
Glitter Hand Prints Ornament
No Longer Available
No Longer Available
Red Glitter Hand Prints Ornament

$

22.50

$

0
Pricing may vary at time of purchase.
Product subject to availability. If you have any questions regarding this item(s), please call
1.800.993.4923
.